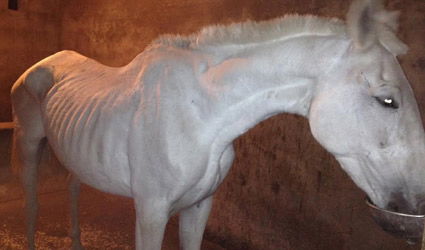 THE Easy Horse Care Rescue Centre joined the Local Police in a rescue operation.
The Centre received the call from an officer in Callosa de Segura who advised them they had responded to information from the public about a horse and pony that were not being cared for properly. They had ordered the owner to release the animals because they were being mistreated.
Co-founder of Easy Horse Care, Sue Weeding explained: "When we arrived with the horse box the police officer escorted us to where the horse and pony were tied to a tree. He stayed with us while we led the animals to safety. The mare was so weak through dehydration and lack of food that she fell down while we were walking her to safety. The pony, we noticed, has a deformed nose caused we believe by a tightly fitted head collar which he must have been wearing for a very long time."
The pair will now stay at the Rescue Centre in Rojales to live out their lives.
Sue said: "What is so positive and pleasing now is that the police, both the Guardia Civil Seprona and local police forces on the Costa Blanca and inland, are taking action when they are alerted to horses in distress. They are contacting us to see if we can help them instead of looking the other way. This bodes very well for the future of animal welfare in Spain and is something we have been working towards for many years."
The two new arrivals and the other 61 equines at the Easy Horse Care Rescue Centre can be visited every Sunday from 1-4pm. Entrance is free.