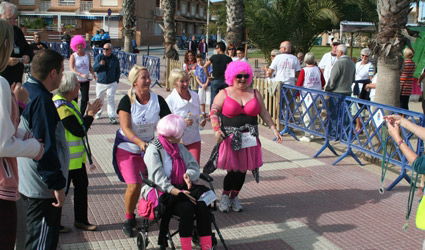 THE sixth annual MABS Mar Menor Race for Life hopes to raise €4,000 from sponsorship.
Walkers and runners, some with dogs, children and those in wheelchairs, all took part in the three kilometre race which finished in Los Narejos where live music was played to welcome the participants.
MABS area coordinator, Janet Bell, started the race, thanking everyone for their support: "It's so rewarding to see how everyone pulls together for an event like this." She also thanked DFS Furniture for sponsoring the tee-shirts, and Time Out Bar in San Javier for providing bottles of water. 
Race winners included: First Man; Liam Holmes, First Lady; Marissa Stevenson, First Boy; Travis Preston, First Girl; Millie Airey, First Dog Walker Amanda Willett with Bonnie, Keena and Izze, First Fancy Dress; Enid Winskell from ADAPT and First Wheelchair past the finishing line was Angela Codey who took part with Donna Walsh and Deborah Peat, all cancer survivors.
MABS helps all people affected by cancer, providing drivers, translators, carers, equipment or just a listening ear at the Cancer Centre. For help and advice call 693 275 779.