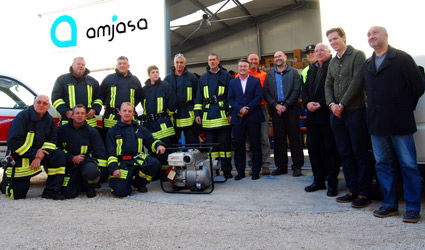 A NEW water pump has been donated to the volunteer fire brigade from Balcon al Mar.
Their equipment was damaged at the beginning of October as they attended a fire in La Guardia, Javea.
The volunteers play an important role in Javea and in many cases are the first people to arrive at the scene of a fire. As a result, Amjasa, the company that supplies water to Javea, decided to help the volunteers and donate a new water pump to the firefighting team.
The assistant manager of Amjasa, Josep Lluis Henarejos, has replaced the volunteer's old pump with a new one which is valued at €3,000. This new pump can accommodate eight pipes simultaneously without the loss of pressure.
The volunteers also received a €2,000 donation from The Original Charity Shop in Javea to help them replace other items of damaged equipment.
The Mayor of Javea, Jose Chulvi, said the budget for the volunteer fire service will increase next year to ensure this vital service continues.