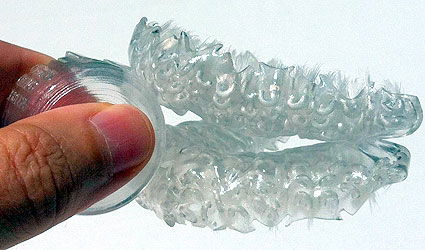 IN less than 10 seconds your teeth can be brushed thoroughly. Blizzident, a new 3D-printed toothbrush, looks like a mouth guard lined with 600 bristles. 
You bite down into the 3D impression of your mouth and grind your teeth on the bristles, which cleans all of your teeth simultaneously. "It was the intention of the designers to make tooth brushing as easy as biting into an apple" Chris Martin, stated Blizzident' spokesman
The process of ordering one of these custom-fit brushes begins in your dentist's office. Your dentist takes an impression of your teeth and sends it to Blizzident and the team gets to work. Printing and manufacturing takes about 12 weeks.
But your first Blizzident will cost you $300 (€220). This does not including payment to your dentist for the impressions. The brush lasts a full year, since the bristles do a lot less work that those of traditional toothbrushes.