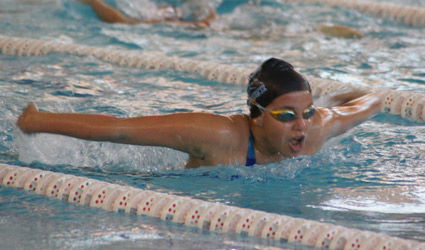 THE second regional Time Control for the older swimmers in the Alicante region took place in the Municipal Pool Petrer.
Thirteen clubs with a total of 291 swimmers came together to compete. Ten members of Club Natacion Torrevieja performed well in a maximum of four races each. On Saturday in the girls 50m Freestyle Edurne Moreno, Alexandra Amat and Vicki Connolly all achieved new personal bests, as did Yuriy Lymar in his 50m Freestyle.
Ruth Brassington, swimming but not feeling well, came close to her best in the same event. This was followed with an outstanding swim for Piroska Rideg in the 100 m Backstroke event, a new personal best 1:12:92 and regional qualifying time for both Piroska and Zoe Connolly in the 100m Backstroke. Keeping up the excellent results Alexandra knocked 15 seconds off her 200m Breaststroke time and Piroska over six seconds, 2:39:84 in her 200m Medley event. Both Piroska and Zoe achieved regional times in their 200m Medley races.
 Back to the pool in Petrer on Sunday morning three of the clubs swimmers had some good swims. First up Vicki Connolly achieved a new personal best in her 800m Freestyle event and Zoe Connolly knocking over nine seconds off her previous personal best in the 200m Backstroke event 2:48:06 giving her a good regional qualifying time. Louise Brassington had a good swim in her 100 m Freestyle and Zoe, tired, followed in her 400m Freestyle.