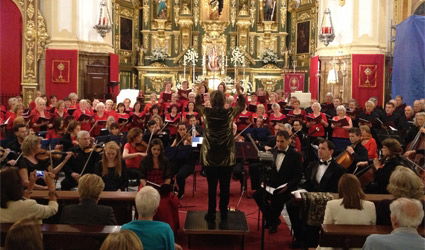 THE Collegium Musicum Costa del Sol Choir and Orchestra, conducted by Annemarie Philipps, is once again holding its Christmas concerts.
The first concert is on December 15 in Benalmadena Costa, at 8pm in the Church of Our Lady of Carmen (near Bonanza Square).
The second concert is on December 17 at 9pm in the Church of the Encarnacion (Marbella Old Town).
The concerts show the diverse characteristics of the national musical traditions of European heritage across the centuries.  The programme includes elegant and rather restrained French carols, more serious and straight-forward German carols, English  and Irish carols, heavily influenced by the folk music of Britain, and down-to-earth Spanish carols full of life and colour.   
For more information visit www.colmus.org, Facebook or phone 952 475 840.