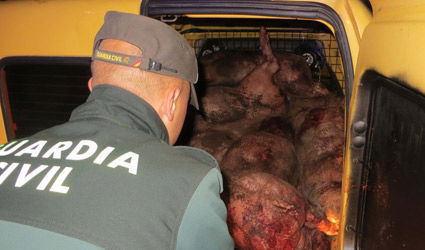 TWO men have been arrested accused of rustling pigs before bludgeoning them to death with hammers.
The Guardia Civil suspected the duo from Roquetas del Mar of seven crimes of robbery with force from farms in Almeria and Murcia.
The arrests are the result of increased vigilance by Guardia Civil agents under the 'Plan Against robberies in Holdings and Farming'.
As part of the ongoing operation agents ordered a vehicle to stop for an inspection.The driver ignored the agents and sped off.
The Guardia Civil started following the vehicle mainly due to the large load it was carrying. After catching up with the vehicle and pulling it over, the officers noticed the two occupants of the vehicle had bloody hands and clothes and footwear stained with animal faeces.
Officers searched the vehicle and found 10 pigs which had apparently been killed by heavy blows with a blunt object. Two hammers stained with blood and dirt were also found.
During the course of the action, Guardia Civil were informed of a farm in Pulpi which had had its doors apparently forced open, and which had bloodstains in the loading bay area.
On further investigation the owner of the targeted pig farm confirmed that the dead animals found were his missing pigs.
The two men aged 26 and 20 were arrested suspected of the crime of burglary in a farm.
As a result of the investigation, agents managed to link the two detainees to six other similar events, with the same modus operandi  in Huercal-Overa, Nijar, and four in Puerto Lumbreras (Murcia). Both men have extensive criminal records, with 30 arrests between them .