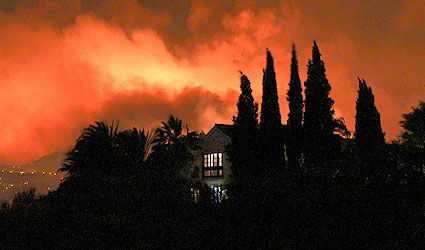 THE owner of a house where a gardener's bonfire sparked a blaze that raged across the Costa del Sol could be held liable for damages. Malaga Public Prosecutor has asked a court in Coin to consider if the owner of the property where the wildfire broke out last summer has subsidiary civil liability.
The fire, which destroyed more than 8,000 hectares across six municipalities and killed two people, started on a property in Barranco Blanco when a gardener tried to light a bonfire to burn garden refuse. 
The Belgian owner of the house was not in Spain at the time. The gardener, from Alhaurin el Grande, was arrested a month after the fire and released with charges. He has to appear in court twice every month and is banned from leaving Spain.
Now one of the insurance companies which has had to pay out to one of its clients for damages, has asked whether the Belgian owner's property was insured with civil liability cover. 
If it was, his insurer could have to pay, but if not, the owner may be found personally responsible.
The fire destroyed houses, vehicles, natural areas and urban facilities, as well as killing two people. Another man remains in hospital in Germany in a serious condition. 
The case is taking some time to be resolved as expert reports have to be gathered and the damage has to be quantified. 
At the time the accused started the bonfire, in August 2012, lighting fires was totally banned because of the risk of starting a wildfire. He denied before a judge having done so. However, investigators found that he had attempted to set the garden refuse alight, but because it was green, it hadn't caught light immediately. He left the area without checking there was no danger, and the fire flared up.