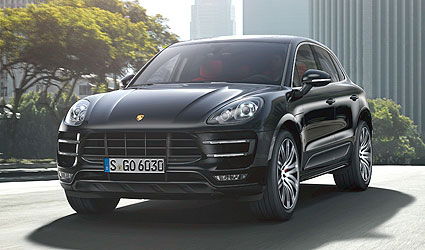 GERMAN manufacturer Porsche unveiled the all-new Macan during the Tokyo Motor Show, which is being held in the Japanese city until Sunday.
The Macan, whose name comes from the Indonesian word for tiger, combines the typical handling characteristics of Porsche with a high level of comfort and everyday suitability.
Three models comprise the Macan product range. 
The Macan S1) is equipped with a 3.0-litre V6 biturbo engine delivering 340 bhp and also features an active all-wheel drive with an electronically controlled, map-controlled multi-plate clutch.
A seven-speed double-clutch transmission transfers power as required and almost without any interruption in tractive force, enabling the vehicle to accelerate from 0 to 100 km/h in 5.4 seconds.
The Macan S Diesel 2) is the economical long-distance runner of the three Macan models. Its 3.0-litre V6 turbo diesel engine achieves fuel consumption figures of between just 6.3 and 6.1 litres/100 km, which corresponds to a CO2 value of between 164 and 159 g/km. 
Nevertheless, the Macan S Diesel accelerates from 0 to 100 km in just 6.3 seconds thanks to its 258-bhp engine. As the top model in the Macan model line, the Macan Turbo3) is set to be the most powerful vehicle in the compact SUV segment. 
The 3.6-litre V6 biturbo engine, which is being used in a Porsche model for the first time, achieves an unrivalled 400 bhp and catapults the vehicle from 0 to 100 km/h in just 4.8 seconds. 
Although the top speed is 266 km/h, the Macan Turbo delivers fuel consumption figures of between just 9.2 and 8.9 litres/100 km. The design elements of the new Macan, available in April from €57,930, have been taken from other Porsche sportscars.
Round lines are combined with strategically positioned precision edges, giving the vehicle a compact, powerful and close to the road look.
The side view with its sporty sloping roof line creates a sharp profile and emphasizes the dynamic nature of the vehicle, while the design lines running to the rear of the vehicle accentuate the broad, sculpted wings.
The focus on agility and breadth continues into the Porsche Macan's interior. From the low front seats to the sloping centre console, the interior offers a sense of familiarity with features coming from sportscars.