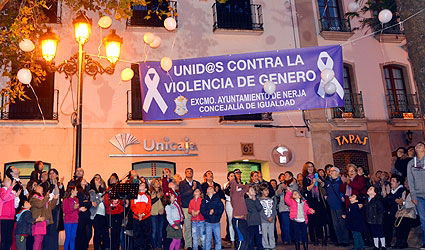 A CEREMONY at Nerja Town Hall and a tribute to domestic violence victims were two of the events to mark the International Day against Gender Violence on Monday 25.
The events started in the morning at several high schools in the town with the reading of a manifesto by spokesmen from the local political parties, the same manifesto that inaugurated the ceremony at a Plenary session of the town council.
Likewise, the students were educated about activities that take place at the Municipal Centre of Woman Information. The Guardia Civil explained the steps to take if someone witnesses or suffers an act of gender violence.
After the readings, another ceremony took place at the Balcon de Europa to pay tribute to victims of gender violence, with a performance by the Local Drama Club, the first the recently formed club has ever performed.