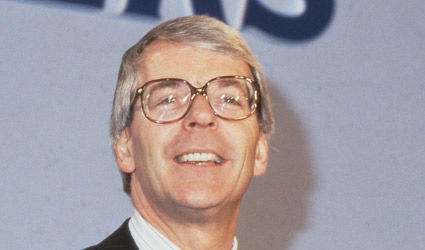 THREE party grandees – two former Home Secretaries and a former Prime Minister – came out of the woodwork recently to come clean and admit their own party policy was wrong. Jack Straw criticising Labour for allowing so many people to settle in Britain which, he confessed, was a "spectacular mistake". David Blunkett warning of civil unrest in his own Sheffield constituency because of the "aggravating" behaviour of recently-arrived Roma migrants. 
And what about former PM, John Major? Well, he's "shocked" at the public-school elite's current grip on power, saying Cameron's Tory-led coalition should do more to help social mobility.
Oh, such is the benefit of hindsight! Straw and Blunkett, for their part, were two of the most senior figures of the Blair/Brown era.
Fully signed up to the New Labour 'project'. Straw's admission that the Labour party's decision to allow eastern European migrants to work in Britain from 2004 was a '"well-intentioned policy we messed up" came just a day after Blunkett, Straw's successor as Home Secretary, warned British cities could face riots as the arrival of Roma migrants creates "frictions" with local residents.
In fact, the last Labour government predicted only13,000 would move to Britain from eastern Europe after 2004. Yet, more than one million arrived in one of the biggest waves of immigration ever seen in the UK. As Straw himself put it: "Lots of red faces, mine included". Blunkett's too, apparently: in 2003, he declared there was "no obvious upper limit" to immigration.
And as for Major, I'm a bit confused by his comments. Not so long ago, he was forever waxing lyrical about England being "a land of long shadows on county cricket grounds and old maids cycling through the morning mist" (a rather elitist view of the country if ever there was one). Now he's "shocked" that Eton and Harrow public schoolboys rule the land? (Careful, though, to blame the "collapse" in social mobility squarely on Labour.)
It's always the same old story from politicians, isn't it? "Yeah, fings is bad now, but it's the other guys what dunnit, guv." Do we have here The Three Wise Men? Probably not. All three are like little school boys caught smoking behind the bike sheds. "Oh! it weren't me, sir – it's 'im over there!"
 Nora Johnson's thrillers 'Retribution','Soul Stealer','The De Clerambault Code' (www.nora-johnson.com) available from Amazon in paperback/eBook (€0.89;£0.77) and iBookstore.Profits to Cudeca