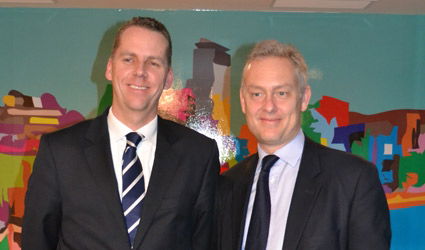 LESS than four weeks into his new role as Her Majesty's Ambassador to Spain, Simon Manley, CMG, has made his first visit to Alicante province.
After meeting members of associations and charities working to support the British community, including The Royal British Legion and Age Concern, he met with invited members of the media at a reception in Benidorm. Accompanied by British Consul from Alicante Paul Rodwell, the Ambassador said Spain was the biggest and most important consular region, dealing with around 14 million British holiday makers each year and around 800,000 people resident in Spain.
In a bid to reach these people in a quicker, more effective and efficient way, the Ambassador announced the launch of new Facebook and Twitter pages: "We are in a digital age and are keen to make the most of social media to ensure people are well informed so they are less at risk whether they are staying three days or 33 years."
The importance of social media became apparent during the Boston Marathon bombing when it was really used for the first time allowing people to access minute by minute updates. "I hope it is a genuine two way communication." However the Ambassador was keen to stress that it is not a substitute for the consulate service that the team provides as the team in Alicante dealt with 1,200 cases last year: "We want to enable Paul and his colleagues to reach the most vulnerable so the two will work in tandem and allow to get more information out there and give the correct information."
Follow the British Ambassador and the Embassy by 'liking' Brits living in Spain on Facebook and following @BritsliveSpain on Twitter.