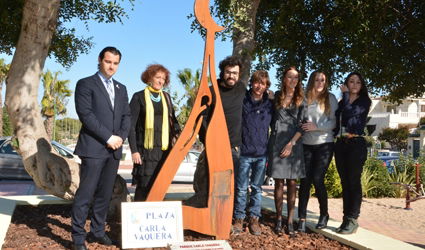 TORREVIEJA has paid tribute to a local woman who fought against gender violence who died in the Santiago de Compostela train crash.
Carla Vaquera, aged 35, died with her son in the summer disaster.
Now, Torrevieja council has dedicated a square in her honour and unveiled a steel statue of a silhouette of a woman trying to touch the moon in the Reina de la Sal Park in Urbanisation Los Balcones.
Carla's mother Grace thanked the council and the artist for all they are doing in "recognising the work" of her daughter saying "many women are alive thanks to her and her foundation." Her daughter's third book, which she finished the day before the accident, is to be published shortly.
The unveiling was held on the World Day to Combat Gender Violence and marked a series of events held across the region.
In Pilar de la Horadada 45 candles were lit in memory of this year's victims of domestic violence with balloons being released outside the town hall before a minute's silence was held. Silence was also observed in Orihuela as hundreds of people gathered in la Glorieta Gabriel Miro.