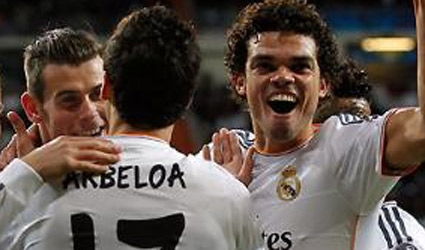 REAL MADRID won 4-1 last night at home against Galatasary, putting them through to the last 16 of the Champions League as winners of Group B.
Despite playing without Cristiano Ronaldo and losing Sergio Ramos during the first half to a red card, Madrid maintained control of the game. Gareth Bale started the goal scoring with a free kick, but just a few minutes later Galatasary equalized.
Madrid's second goal, just minutes into the second half, was netted by Alvaro Arbeloa. Angel Di Maria scored the third goal, with Isco sealing the victory with a goal just minutes before the end of the game.