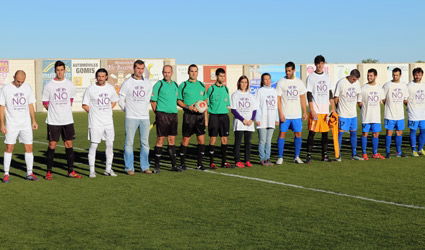 THROUGHOUT the Costa Blanca, towns observed International Day for the Elimination of Violence against Women.
Fire was chosen for this year's theme in Campello where the main event began with a human chain and 44 burning torches.  There was one for each of the 44 victims who lost their lives at a partner's hands in 2013.  Five candles were also lit in memory of the five children murdered in domestic violence incidents.
At the Casa de Cultura, Women's Councillor Maria Camara read out a manifesto.  Mayka Bethancourt, vicepresident of the Asociacion de Mujeres de Campello (AMUDECA) and Laura Chorro, the regional government's director general for the Family and Women, also made speeches.
Next day members of the Campello and Villajoyosa football teams wore t-shirts proclaiming "NO to gender violence" and observed a one minute's silence before their match.
 On the day itself, last Monday, members of the public joined the five minutes' silence outside the town hall.