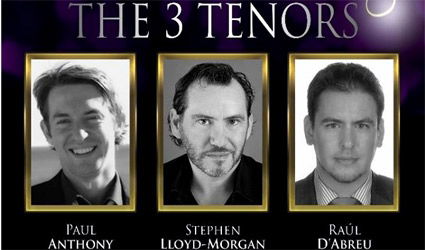 THERE is still a chance to see The 3 Tenors show and raise some desperately needed cash for animal charity PAWS.
The 3 Tenors have never ever appeared in the Turre area before, but they have made a real name for themselves with their spectacular show featuring some of the best known tunes around.
And the concert will be opened by Dominic Doolittle with his repertoire of light jazz and classical piano. He will also finish the night when the 3 Tenors have finished with some music to get everyone on the dance floor. Organisers promise it is set to be an enchanting evening.
The ticket only event includes Cava on arrival, a four course Christmas Dinner as well as the entertainment. It is planned for December 7 from 7pm with the show due to start at 9pm at the Hostal Rural, Turre. Tickets at €40 are available from the hostal or by calling 697 302 129.