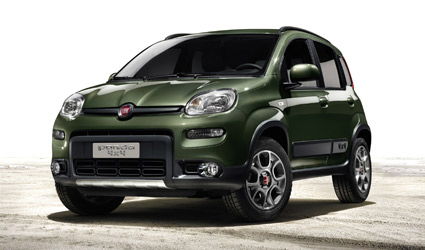 FIAT has designed a car to appeal to both lovers of adventure and drivers who simply want extra grip on slippery surfaces, the Panda 4×4.
The 4×4 features a permanent all-wheel drive system that employs two differentials and an electronically controlled coupling governed by an electronic control unit.
In normal dry conditions, 98 per cent of the engine torque is transferred to the front wheels.
This means the car handles in a very similar way to a front-wheel drive model and there are no increases in petrol consumption and tyre wear.
Under low grip conditions such as snow, ice or mud, the electronically controlled coupling prevents wheel spin by progressively increasing the proportion of torque sent to the rear wheels.
The Fiat Panda 4×4 features ELD (Electronic Locking Differential) as standard.
The ELD helps improve traction by braking wheels with poor grip on slippery terrain and transferring the driving force to those with greater purchase.
The vehicle, available from €11,650, is also equipped with an anti-skid system designed to maximise safety while negotiating descents or turning in low grip conditions.
The successor to the car appeared more than 29 years ago, the Fiat Panda 4×4 offers a choice of two engines: one petro and one diesel.
The two-cylinder 85hp TwinAir Turbo combines a small capacity engine with a responsive turbocharger.
It generates 145Nm of torque at 1,900rpm, which represents 40 per cent more pulling power than the previous generation Panda 4×4's engines.
The engine benefits from a new six-speed gearbox with an especially low first gear ratio, which helps to enhance the car's off-road characteristics by improving take-off during hill starts.
The diesel engine in the Fiat Panda 4×4, Fiat's 1.3-litre MultiJet 2, is certainly small.
Complete with all its ancillaries it tips the scales at a mere 140kg and is less than 60cm long and 70cm high.
It delivers a maximum power output of 75hp and 190Nm of torque at just 1,500rpm, which is 30 per cent more than its predecessor.
It has been optimised for economy and eco-friendliness with CO2 emissions of just 125g/km and official Combined Cycle fuel consumption of 60.1mpg.