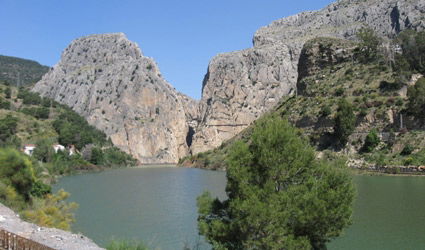 MALAGA Provincial Government has completed the project for the definitive restoration of the notorious 'Caminito del Rey', known as the 'death walkway'.
The project to restore the walkway over the Gaitanes Gorge between Alora, Ardales and Antequera will cost €3.12 million.
The President of the Provincial Government, Elias Bendodo, has said that it will open in 2015.
Once the railway administration, Adif, has issued a report regarding the coexistence of the walkway and the railway tracks in El Chorro, the work can go ahead and is due to take 10 months.
Helicopters will be used, and specialised workers will have to hang from the gorge to make the new walkway which will be made of wooden panels on metal supports drilled into the rock. There will be parts of the 1.2 kilometre walkway with glass panels so visitors can see the gorge below.
The Camino del Rey has become known throughout the world for its extreme danger, and although it has been closed to the public for years, many climbers continue to risk their lives to traverse it. Construction finished in 1905 and it was inaugurated by King Alfonso XIII.