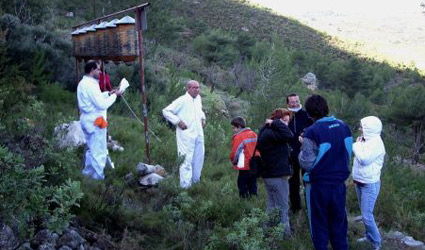 BENISSA'S fire-prevention association ABAI has been up to Bernia to check its pollination stations.
For some time now, ABAI has been working to assist regeneration of Bernia's woodland by facilitating natural pollination by wild bees.
The health of the landscape is closely linked to the health of the bees which transfer pollen from plant to plant, the association explained.  They facilitate reproduction and ensure that later there are more seeds and are of good quality.  This in turn improves the ground cover and its capacity for regrowth following a forest fire.
This is where ABAI enters the picture with the two pollination stations it installed on the foothills of Bernia to provide bees with a ready-made habitat.
One of the stations with its hanging nests was working perfectly the last time it was checked but the other lacked occupants.
Although hanging nests were chosen to protect the bees from predators, this station has now been dismantled and substituted by ground-based nests.