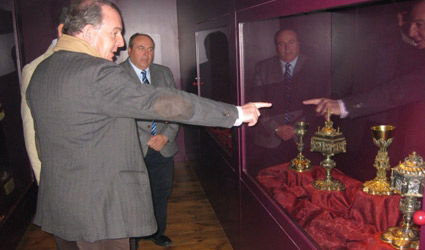 RELIGIOUS objects given to Velez-Malaga by Queen Isabel are on display at the Semana Santa museum of the town.
These are a sacred goblet and two pyxes or small round containers used in the Catholic Church to carry the consecrated host.
It is the first time in 40 years that these religious pieces, which were donated to the town in the 15th century, have been on display.
They are normally in the custody of the Carmelitas nuns in the Jesus, Maria y Jose convent in the town.
Apart from these pieces, visitors to the Semana Santa museum can see objects belonging to the religious heritage of Velez-Malaga.
These include two chasubles (the vestment worn by clergy for the celebration of the Eucharist), a holy water vessel, or a Mother Petra medal among other objects.
Also on display are the posters announcing the Semana Santa (Easter) in Velez Malaga from 1990 to today, as well as an unknown poster from the 60s.
The exhibition can be visited from Tuesday to Saturday from 10am to 2pm, and from 5pm to 8pm. On Sundays it can only be visited in the morning. The museum is closed on Mondays.