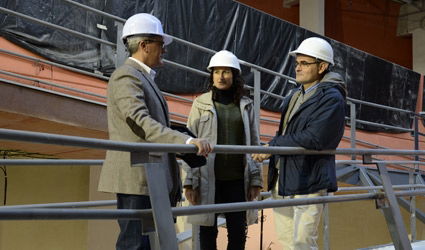 VILLAJOYOSA'S Antonio Espinosa, Carmina Bonmati and Pepe Lloret are joining an AENOR subcommittee.
AENOR (Asociacion  Española de Normalizacion y Certificaction) develops, publishes and promotes Spanish standards. As an active member of EU and international standardisation it works towards improving quality within companies as well as their products and services.  It is committed to environmental protection and is currently compiling Spanish standards for Smart Cities.
Espinosa and Bonmati are respectively director and communications officer at Villayosa's museum, Vilamuseu while Lloret is the local town hall's Heritage councillor.
The trio were approached by the Smart Tourist Destinations subcommittee on the strength of Villajoyosa's recognised success in promoting the town's cultural and historical legacy. 
Both museum and town hall shown have themselves to be accessible and inclusive and the three new members will share their know-how with the AENOR subcommittee.
Antonio Espinosa is also on the advisory committee of an international conference on Education, Accesibility, Heritage and Museums in Huesca in Huesca next May.
Vilamuseu is one of the conference's official collaborators and Espinosa will be reading a paper on Accessibility and Museum Techniques.