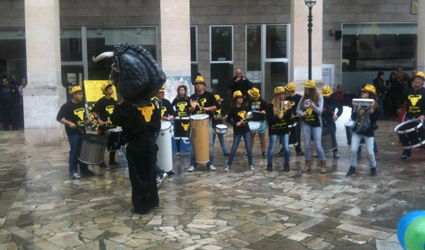 THE rain made its presence felt during this year's Dijous Bo, one of the most important events on the island of Mallorca.
The 2013 edition of the so-called 'fair of fairs,' which was held last Thursday, didn't see as many visitors as in previous occasions due to the weather.
However, rain wasn't an obstacle for many people who, holding an umbrella, decided to enjoy the fiesta.
During the Dijous Bo, which is traditionally held on the fourth Thursday after October 18, the streets of Inca become a street market with plenty of events for people to enjoy.
On the plaza del Bestiar, horses, sheep, birds and local porcs negres (black pigs) were on display.
A sinia or waterwheel propelled by a donkey symbolised the fair's aim to honour old times.
The mercat pages (farmer's market) offered seasonal products, drinks and tastings of local dishes at the stalls.
Children enjoyed rides at the fairground and drum bands livened up the fiesta.