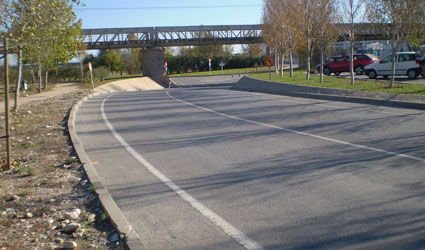 TWO more Altea roads will incorporate a cycle lane.
Work has begun on a 1.3-kilometre section of Avenida Juan Alvado and Camino del Algar and should be finished in early December, said councillor Jaime Selles.
The cycle lane, costing €20,000, will begin at the Avenida de La Nucia roundabout and continue along a 400-metre stretch of Camino del Algar. It will then cross the river and connect with the existing Green Corridor and cycle lane.
The track will be inaccessible on Tuesday mornings when the open-air market is held in Avenida Juan Alvadao and the Camino del Algar will no longer be double-width.
This new section now gives access to the coast as well as the Barranquet, La Lloma and l'Horta districts, furthering town hall plans for 10 kilometres of cycle lane, Selles said.
Soon there will be a network of good, safe network for cyclists, the councillor maintained.  "But just as vehicles must adapt and respect speed limits inside the town, cyclists should also adapt and cooperate by complying with regulations and making good use of the bike lane," he added.