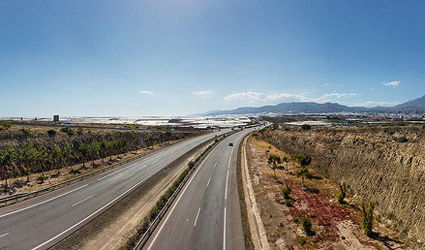 DESPITE campaigns carried out by the Directorate of Traffic (DGT) speeding remains the cardinal sin of Almeria drivers for the seventh consecutive year.
Speeding was the factor present in 31 per cent of fatal accidents last year and the biggest cause for points on driving licences. On average, fixed speed cameras and mobile Guardia Civil Traffic agents catch 110 drivers a day exceeding the speed limit.
The 11 fixed radars in the province capture thousands of offences every year.
Motorists should be patricularly careful with the two fixed speed cameras located at kilometre 405 of the A7, passing through El Ejido with a 120 km per hour, limit, and the radar located on the A334, located between Purchena and Macael with a limit of 60 km per hour.
These two fixed devices have raised the most fines in the province between January and September this year. The two radars caught 6,927 derivers between them.  El Ejido was responsible for 1,261 and the radar which is located between Purchena and Macael a whopping 5,666 mostly recorded on a Saturday and Sunday.