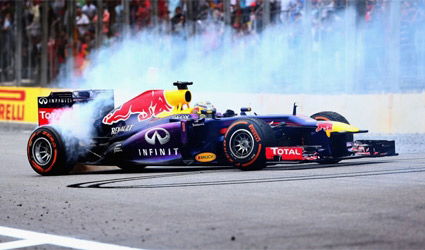 Sebastian Vettel finished off a dominant season in style by joining Alberto Ascari in the record books with his first place in Brazil.
He equalled Ascari's 60-year-old record of nine successive wins on his way to the chequered flag at Interlagos.
There was no sentimentality as he saw off the challenge of his long-standing Red Bull team mate Mark Webber in the Australian's last F1 race before moving to sports car racing.
Webber and Ferrari's Fernando Alsonso joined Vettel on the pódium.
Jenson Button in his McLaren put in a good drive to come in fourth after starting 14th on the grid, but it was still the British team's worst season since 1966.