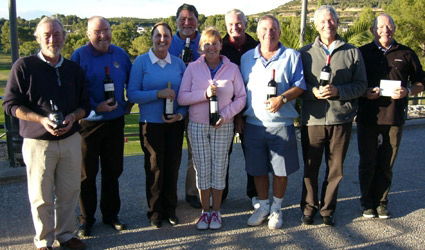 THERE was a good turn out for the Warblers trip to El Bosque. The course is much loved but seldom supported well but this week was the exception. 
The course was in excellent condition and the greens were like putting on glass and the cry of "I only touched that" as the ball disappeared across the green was heard often.
One man who has been in the doldrums with his golf for some time clearly revelled in the conditions. Coming out on top of division two it was Paddy Kenmore and to add to his pleasure the CBA of -2 will make his 37 points even more painful.
Second place went to Vicki Loeber beating Rosemary Edwards into 3rd both scoring 32. Division one did not fair so good with five players level on 30 points and it was down to count-back to decide the results. In first place was Steve Cliffe, second spot went to Glynn Braidley and third was David Corcoran, Stafford Pemberton and Jim Rodgers being the unlucky ones.
Nearest the pin prizes went to Steve Robinson and David Knight and David managed the two as did Fred Cooley on the 4th.
Next meeting for the Warblers will be on December 4 and it will be a Stableford game at Villaitana Levante, the first tee will be 10 am. Guests are always welcome and you can book in by phone on 639 242 896.