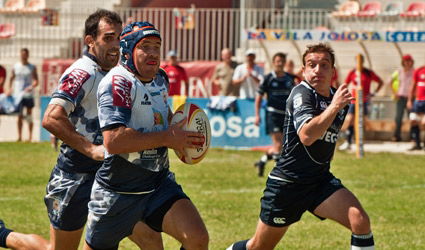 LA VILA – 26 v. LES ABELLES VALENCIA – 15  
IT WAS an entertaining home game at La Vila on Sunday, with two great sides fighting for points to win the championship.
La Vila opened the scoring after three minutes with a penalty by Nacho Luche, before a series of missed tackles and a quick counter attack from the away side led to the first try of the match.
The home side responded by attacking the opposition line with numerous drives through the forwards, but they were unable to find a gap and get over the try line. After losing possession at the breakdown Javier Calvo scored a second breakaway for Les Arbelles, putting them further ahead at 3-10 
La Vila refused to give in under pressure, and a superb counter attack from Matias Lamboblia in the 33rd minute brought the home side back into the game with a well deserved try, and with the first half about to end Juanma Quirante made a spectacular run through the field, resulting in a converted try to put Vila 15-10 ahead before half time.
After the break the Vileros began to show more composure and control, Juanma quirante scoring another penalty to put the home side further ahead. Les Abelles defended well, but another spectacular Vila break, this time from Fernando Lopez, gave the Vileros another try and a comfortable 23-10 lead.
With 10 minutes to go, Les Abelles were still attacking, in the hope of coming within a losing bonus point, and went over the try line again, but failed with a well struck conversion which landed just short of the posts to bring the score to 23-15.
La Vila closed their lines and were able re-open the points gap with yet another successful penalty, taken by man of the match Juanma Quitante.
A final score of 26-15 takes La Vila up to second in the table, and they now look forward to their next match against Poble Nou on 1 December, before they return to the Pantano ground on Sunday 22 December at 14.30 to take on San Cugat de Barcelona.