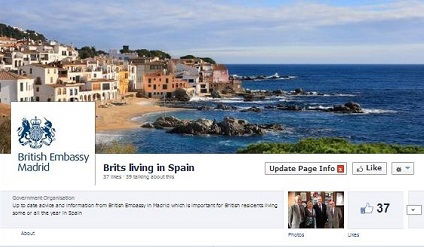 THE British Embassy has set up two new social media sites to help expatriates. British people living in Spain can now use the channels to engage with fellow residents, as well as to find news and advice from the Embassy and its partners who support Britons abroad.
The new channels – 'Brits living in Spain' on Facebook and @BritsliveSpain on Twitter – let residents search for and share useful tips and experiences, thus enabling the 800,000-strong British community to better help each other and make more of Spanish life.
The launch by the Embassy of these social media channels coincides with the first official visits this week by the new British Ambassador Simon Manley to Malaga, Alicante and Barcelona – and ahead of visits to the Spanish islands in the coming weeks.
Mr Manley said: "These days, whether we are young, or just young at heart, we are all going digital. Our new Facebook and Twitter channels are the perfect way for Brits living in Spain to get more information about the issues that matter, and to comment on them so that we can engage better with our nationals living abroad.
"I would really encourage Brits in Spain to search out our new channels, 'like' or 'follow' them, and reap the benefits of a new way of communicating with each other and with us."
The new social media channels are regularly updated with useful, independent information tailored to local demand, and will provide open forums for residents to engage with fellow Britons across Spain.
How to join:
Facebook: Go to www.facebook.com. If you don't already have an account you will be prompted to create one. Search for 'Brits living in Spain' and once on the webpage, click on 'like'.
Twitter: Go to www.twitter.com and sign in or create an account using your email address. Search for @BritsliveSpain and then click on 'follow'.
Twitter: You can also follow the Ambassador personally by searching on www.twitter.com for @SimonManleyFCO and clicking on 'follow'.
Social media is increasingly popular among all age groups. According to the Office for National Statistics, half of all Britons use social media regularly, with one in five people aged 65 or over using it on a daily basis.
More than half the British population now have Facebook accounts, including more than 12 million people aged 30-49 and another 5.5 million aged 50+. Meanwhile a quarter of all people in Britain have Twitter accounts, enabling them to keep up with the latest news. More than three million Twitter users are aged 35-54, with another million users aged 55+.