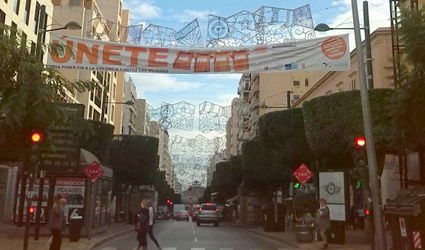 ALMERIA CITY COUNCIL has been honoured with the 'Menina' award of Andalucia for the 'UNETE' campaign against violence towards women.
The Council held the campaign to mark the International Day for the Elimination of Violence Against Women, held on Monday, supported by the United Nations.
The campaign, with the slogan 'Say No –Unite to end violence against women' was organised the Equality Department of Almeria City Council and the company Urban Almeria, which has  carried out various events throughout the week, including the holding of workshops, forum discussions and theatre.
However the most eye catching activity was 'The clothesline project' which took place on the Calles Tiendas, Mariana and the Plaza Vieja, where they hung orange T-shirts in the streets with messages against violence.
On Monday in the Plaza Vieja actor and journalist Miguel Angel Tobias read out a manifesto to commemorate the day. The Mayor of Almeria Luis Rogelio Rodriguez-Comendador showed his satisfaction at the award calling it 'recognition of the work we undertake from the Women's Department of the City Hall throughout the year in the fight against violence in general.