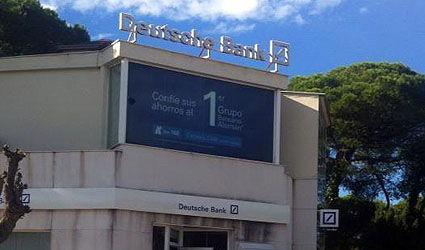 THREE men held up a bank on Benamara urbanisation in Estepona, getting away with up to €40,000. The events took place at around 8am when there were two members of staff and a British client in the bank.
The men, believed to be Spanish, pointed a gun at the client, took their mobile phones and locked all three in a room. Then they took money from the desk and forced the cash machine. In the meantime, a cleaning lady and two more clients entered and were all locked up. Before leaving, the intruders stole the British client's car keys and used his vehicle to escape, leaving the hostages locked in the bank. 
The vehicle was found shortly afterwards and police believe they had another vehicle nearby with a member of the gang to alert them of police presence. It took some time for the hostages to get out and call for help.
No-one was injured, although several had to be treated for anxiety attacks. Just the day before, an office of Correos, the Spanish postal service, in Paseo de los Tilos in Malaga city, was also held up.
Two people entered armed with a weapon and demanded the money from the till. Police are viewing images from CCTV cameras to identify the perpetrators although their faces were covered. 
Witnesses say that one of the robbers put the money in his pockets and it was falling out on the floor, and that when he took a draw with coins in, he dropped them all.