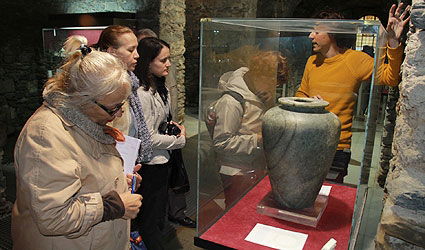 ARCHAEOLOGICAL treasures from Almuñecar will be taking their place in an exhibition at the world famous Metropolitan Museum of Art in New York.
The American institution has asked the town's Culture Department for several archaeological artefacts to include in a new exhibition.
This exhibition is called From Assyria to Iberia: Crossing Continents at the Dawn of the Classical Age, and is to be held from September 2014 to January 2015.
The Councillor for Culture, Olga Ruano, said the New York museum has requested the Apofis vase and two additional onyx marble vases found at Almuñecar's archaeological sites.
According to Ruano, this is proof of the town's possibilities as a cultural destination. "Our cultural heritage attracts prestigious institutions, so it is our duty to protect, preserve and promote it," she added.
The artefacts will be on display together with others from different European, Asian and African museums in order to highlight the relevance of this period.
The municipal archaeologists, Eduardo Cabrera and Ivan Sanchez, pointed out the importance of the Phoenician colony of Seks – set up in the Almuñecar area in the 9th century BC- in the western Mediterranean.