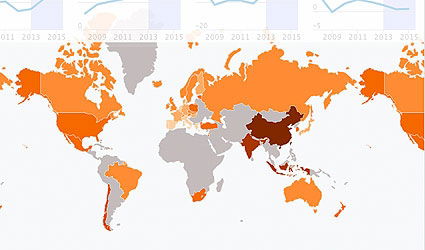 AN INTERNATIONAL think tank has confirmed that Spain is entering a period of economic recovery. But the Organisation for Economic Co-operation and Development (OECD) has warned that the need to control government spending, plus a lack of private lending could keep the pace of recovery slow.
 It has still upgraded its forecast for growth in Spain to 0.5 per cent, up from 0.4 per cent, in 2014. That is substantially lower than the Spanish government's own forecast of 0.7 per cent.
The forecast for 2015 is a growth in Gross Domestic Product (GDP) of 1 per cent, while the economy will have contracted 1.3 per cent during 2013 against initial estimates of a 1.7 per cent decline in GDP.
The OECD expects the unemployment rate to improve slightly but still remain at around 25.6 per cent by 2015.  "Improving growth in export markets, gains in market share and the stabilisation of private domestic demand will help to foster a weak recovery in 2014 and 2015," the OECD's report on Economic Outlook said.