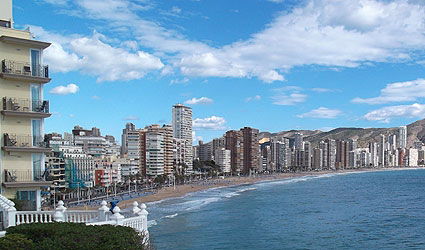 PROPERTIES on Benidorm's Poniente beach are not at risk. That's according to the Environment Ministry after there was concern by some owners after the obligatory area that must be left free between the high tide mark and dwellings was reduced by up to 15 metres in some instances.
This strip now ends at the town's seafront promenades or, in the case of the Poniente Beach, the wooden boardwalk built three years ago.
Overall, the new boundaries are much less restrictive than at present, said Vicente Juan Ivorra, councillor for Urban Development and the Environment at Benidorm City Hall, adding there will be no demolitions. "Many properties on the Poniente beach that would otherwise have been situated inside the protection zone will benefit from the Ministry's decision" Ivorra said.
The Environment Ministry is expected to spend a year in working out the city's boundaries measured from the high-water mark and seafront or coastal construction will be halted during this time.