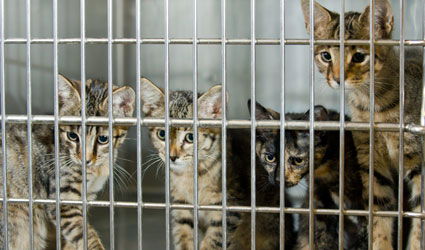 ANIMAL Charity PAWS has thrown its weight behind the effort to stop the mass round-up and slaughter of feral cats in Almeria City. The City Hall has already begun rounding up animals and is reportedly separating kittens from their mothers.
PAWS by Irene from Activismo Por Los Animales, who has been caring for a colony of cats, and Mila Gutierrez of Animalia Terrae in Aguilas, who has set up a petition on Change.org. 
The petition has already attracted more than 2,000 signatures and the number is climbing every day. 
Supporters are being asked to send letters to Carlos Sanchez, Almeria's Councillor for Health, and the mayor, Luis Rodriguez-Comendador, asking to halt the slaughter and introduce a more humane programme of neutering the animals.
PAWS has run a feral cat neutering programme in the Mojacar area for many years, and promotes neutering all domestic animals unless they are being kept for breeding purposes.
The majority of dogs and cats taken into the PAWS shelter have been dumped because they are unwanted offspring.  You can find details of the petition and the 'form' letter to the City hall at the PAWS website on http://www.paws-patas.org/news_cat_slaughter.php.
There is also a helpline number 678 490 217 for any other incidents.