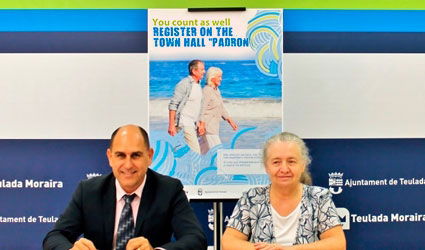 LIKE all Costa Blanca towns, Teulada-Moraira needs its foreign residents to register on the Padron. Registering has always been mutually beneficial for town halls and residents but is now more important than ever.
"It is an act of solidarity toward other residents and the town," declared Teulada-Moraira's mayor Antoni Joan Bertomeu. Accompanied by Sylvia Tatnell, councillor for EU Relations, Bertomeu explained that the national government pays the town hall €131 for every resident on the municipal register.
The 2,700 Teulada-Moraira residents from other EU countries are now obliged by the national statistics' office INE to confirm their presence on the Padron. Not doing so could lose €400,000 from the central government that the town hall needs for municipal services. 
Bertomeu also reassured the EU residents who make up 20 per cent of Teulada-Moraira's population that registering on the Padron is not linked to fiscal residence.
Sylvia Tatnell also reminded residents that the Diputacion is giving a talk in English on the importance of the Padron at 4pm on November 27 at the Senieta Moraira.