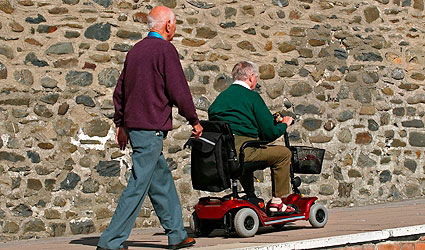 BOY racers using electric mobility scooters could be banned from the streets of Benidorm.
Those who ignore planned new regulations could face fines of between €50 and €90. Companies which rent out the electric scooters will have to demand from their clients a certificate to prove their disability or show they are over 55-years of age, and provide civil liability insurance of at least €60,000.
Locals have been complaining of apparently fit young people speeding along the pavements, sometimes under the influence of alcohol.
The law to regulate the use of mobility scooters in Benidorm will be discussed at the next council meeting.
The Council for Mobility has proposed changes to local laws, which will include restrictions on rental and ownership of mobility scooters. An estimated 500 scooters are on the streets of Benidorm on any one day.
Users will have to travel at walking speed and only in pedestrian areas, unless there are none or they are impossible for them to use.
Driving a mobility scooter under the effect of drugs or alcohol is banned. 
Rental companies with premises in Benidorm will have to register with the council and fines will be introduced for both companies and users, depending on who is responsible for breaking the regulations.
The council says the aim is to improve things for people who really need mobility scooters and put an end to people who don't really need them causing a nuisance.