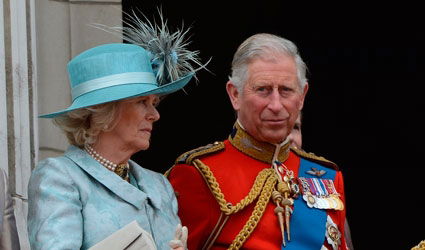 BIT of a 'told you so' blurb this week. 
Normally I hate trumpet blowers, but I'm not averse to a little musical input on occasions.  Firstly, on a lighter note, some years ago, during the vilification of Prince Charles over his affair with Camilla Parker Bowles, I predicted that one day their affair could turn out to be one of the great Royal love affairs in British history.
I think the couple, who are obviously deeply in love, have come through the whole saga with dignity and a new, thoroughly deserved respect. Camilla is far more suited to him than Diana, who, with all due respect, was nothing more than a somewhat flaky, manipulative star- struck clothes horse; one who Charles was bundled into marrying merely to produce an heir to the throne.
Camilla not only 'looks right' at his side, but with her somewhat zany views and slightly off the wall projects, totally fits in with Charles 'talking to plants' and environmental attitudes. I wish them both all the very best and a large dose of happiness as they continue their life journey together.
The second 'trumpet call' hits a somewhat sourer note. I've actually lost count of the times over the past 15 years or so bI've taken a leaf from Enoch Powel's book and predicted this whole immigration fiasco would finally lead to rioting and bloodshed on the streets.
The latest statement from David Blunket does, I think, finally exonerate me from all who accused me of 'ranting' and 'scaremongering'. 
Mr Blunket's recent comments,  that the influx of thousands, possibly hundreds of thousands of Eastern Europeans, with their poor living standards and alien cultures, could lead to violence on the streets of Britain, is no doubt a welcome and sane observation, but it's all too late.
Even now there has been a deafening silence from most other leading politicians on the subject. It's no good waiting for many British suburbs to resemble Syria or Beirut before they clamour to air their views on the nation's media. They need to come out now.
In less than two months hoards of these people will pour into an already beleaguered Britain. They will have nowhere to live. No money and no jobs. What on earth is Britain going to do with them all?
Don't ask me, I'm only an old hack, one hit wonder from way back. I'll tell you something mind, Britain had better gird her loins for an unprecedented rise in crime rates, hoards of beggars littering the streets, a capitulation of the NHS and benefits infrastructure and yes, you've guessed it, unparalleled rioting on the streets of Britain, and all down to incompetent politicians that have well and truly shafted the British public. It is a nation of basically good people, who, with their hard work and historical sacrifices truly did deserve far better.
Keep the faith.
Love Leapy [email protected]
---
Muslim allies
IT is very wrong of 'Leapy Lee' to ridicule the Burka as a way of dress. Although I agree that there are situations where it is totally inappropriate, this is the fault of incompetent politicians and there is no reason why it should cause offence in normal everyday multi-cultural life.
He is additionally, very, very wrong to comment as to why one does not see remembrance poppies worn on a Burka. Many of those Muslim women must carry, in their hearts, memories of their loved ones – the older ones their husbands and brothers, and the younger ones their Grandfthers – who died fighting in WW2, alongside British soldiers in the Western Desert, Burma and Italy.
So, please Leapy, do try to be more objective in your comments.
Brian Nicholls    (By email)