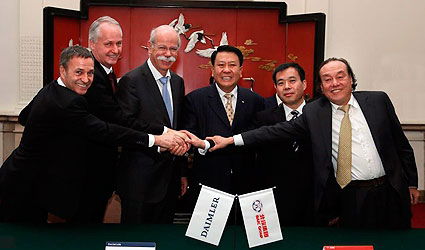 Daimler AG is taking a major step forward in its China strategy with the closing of the company's 12% investment in long-standing partner BAIC Motor, the passenger car unit of Beijing Automotive Group (BAIC Group), one of the top automotive companies in China.
This important joint move breaks new ground as the first ever investment by a non-Chinese automotive company in a Chinese OEM.
The official closing of the transaction, following a short time after the signing of the investment agreement between the two companies in Stuttgart earlier this year and a smooth approval by the relevant Chinese authorities, will boost the already strong and trusted partnership to the next strategic level.
Daimler's investment will take place through the issuance of new shares corresponding to a 12% stake in BAIC Motor. With this investment, Daimler is proving its strong support for BAIC Motor's intention to launch an initial public offering (IPO) in the future.
In the presence of Wang Anshun, Mayor of The People's Government of Beijing, Daimler's Chairman of the Board of Management and Head of Mercedes-Benz Cars, Dr. Dieter Zetsche; Member of the Board of Management of Daimler AG responsible for Greater China, Hubertus Troska; and Member of the Board of Management and Chief Financial Officer of Daimler AG, Bodo Uebber, met today at the Hall of City Government in Beijing with Chairman Xu Heyi, Deputy General Manager Zhang Xiyong, and Chief Financial Officer Ma Chuanqi of BAIC to celebrate the closing of the transaction.
The agreement between the strategic partners includes two seats for Daimler on the Board of Directors of BAIC Motor, to be held by Hubertus Troska and Bodo Uebber.
Furthermore, BAIC will increase its stake in the production joint venture Beijing Benz Automotive Corporation (BBAC) by 1% to 51%. At the same time, Daimler will increase its stake in the integrated sales joint venture Beijing Mercedes-Benz Sales Service Corporation (BMBS) by 1% to 51%.
In emphasizing the significance of the transaction, Dr. Dieter Zetsche stated: "This strategic investment proves our long-term commitment to both the key market China and our trusted partner BAIC Motor. Going forward, the cooperation between Daimler AG and BAIC Motor will contribute towards increasing our footprint in China and so enable us to actively participate even better in the huge opportunities the Chinese automotive market offers."
BAIC Chairman Xu Heyi underlined the positive impacts of the transaction: "This is another historical milestone in a partnership that has already seen great success in the past, with joint production and sales activities ranging from passenger cars to trucks. By further deepening our cooperation on a strategic level, the partnership between our two companies will face an even more prosperous future."
Hubertus Troska said: "This year we are celebrating the tenth anniversary of our cooperation with BAIC that, with significant investments, has grown from strength to strength since day one.
Today our partnership is stronger than ever. With this strategic step we are again pushing our cooperation into new heights, leveraging the potential of the Chinese automotive market to the greatest extent possible."
Bodo Uebber noted: "BAIC already stands firm amongst the top Chinese car companies and has broad recognition as a successful enterprise. To further strengthen its position, we fully support BAIC Motor's intention to publicly list its shares in the future. In this way, we will become part of the growth of the Chinese auto market and one of its key domestic players."
As one of China's largest automakers, BAIC Group sold over 1.7 million vehicles in 2012. Recently, BAIC Group has been listed (position 336) in the Fortune Global 500, the overview of the largest corporations in the world. Earlier this year, BAIC was ranked second on KPMG's Global Auto Executive Survey 2013, a ranking of the top automotive companies that are expected to gain market share in the future.
With more than 125 years of experience in automotive excellence, Daimler AG is one of the world's most successful car companies. Both parties have already established a long-term strategic and trustful partnership, constituting a win-win situation for both the two stakeholders and the Chinese automotive industry.
Joint activities include BBAC, which has been producing Mercedes-Benz passenger cars since 2006 and – starting 2013 – also four and six-cylinder engines in the first ever Mercedes-Benz passenger car engine plant outside of Germany, as well as Beijing Foton Daimler Automotive Co., Ltd. (BFDA), which has been jointly manufacturing Auman-branded medium and heavy-duty trucks since mid-2012. Most recently, the establishment of Beijing Mercedes-Benz Sales Service Co., Ltd. marked another significant milestone for the partnership.
The company that became operational in March 2013 bundles all sales and service activities for imported and locally produced Mercedes-Benz cars under one roof and is a key pillar for Mercedes-Benz's sustainable growth in China.