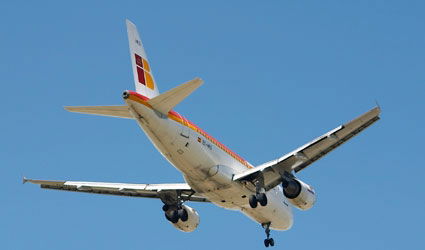 IBERIA was the third most-used airline in Spain in October, with 1.87 million passengers despite a 30 percent drop in trade.
This pushed Air Europa into fourth place although Iberia's accumulated figure of 11.6 million passengers during the first 10 months of year puts it down to fourth place overall.
Low-cost airlines and the high speed train network were partially to blame for the 30 per cent drop in Iberia passengers between October 2012 and 2013, said airports' operator AENA. 
The third factor was Iberia's restructure since merging with BA in January 2011 to create IAG. Cost-cutting measures have entailed a 15 per cent reduction in Iberian's routes in a move to return the airline to profits.
Adding Iberia Express and Air Nostrum passengers to the equation would increase Iberia's October quota to 2.2 million and also put it ahead of  IAG in second place.
Although Ryanair lost 4 per cent of its passengers in October, it still remained in the top spot with almost 3.2 million passengers. The low-cost Irish airline has lost passengers throughout the year, AENA said, owing to its decision to reduce routes owing to higher airport charges.