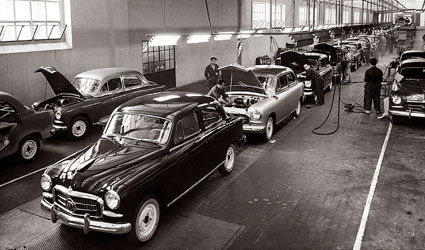 SEAT recently celebrated the 60th anniversary of the 1400, the Spanish automotive manufacturer's first-ever car.
In 1953, three years after the company was established, a high-end car based on American car models of the day rolled off the assembly lines at Barcelona's Zona Franca.
Since the launch of the 1400, SEAT has built more than 16 million vehicles, including emblematic models like the 600 and the Ibiza.
The choice of the 1400 sedan as an initial model was a response to government officials needing a means of transport.
At the same time, this model was a very suitable car for use as a taxi. In 1953, when the SEAT 1400 hit the roads, petrol rationing in Spain came to an end. 
At an ex-works price of 121,875 pesetas (the equivalent of €41,735 today), initial production was five cars a day, built by a workforce of 925 employees. 
These figures would grow exponentially, and were the prelude to large-scale car ownership in Spain. 
In 1956 production grew to 7,000 vehicles, with practically 100 per cent of components being manufactured domestically.
10,000 units were built the following year, at the rate of 42 units per day. After two years, SEAT was employing 5,000 people. 
Production of the 1400 was discontinued in 1964, after selling more than 98,000 units.