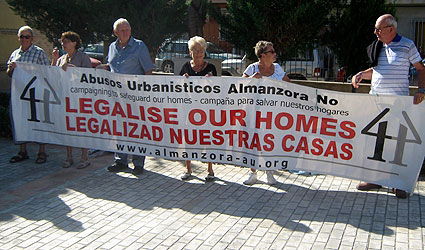 THE regional government is looking to change planning regulations to help make legal up to 12,000 'illegal' homes in the Almanzora valley.
At a meeting held in Almeria the Junta de Andalucia's Councillor for Environment and Urban Planning Maria Jesus Serrano, the provincial delegate Jose Manuel Ortiz, Mayor of Albox Rogelio Mena and Albox councillors Sonia Cerda and Francisco Perez with the president of the Association of Albox , Almanzora Valley ( AEPA ), Martin Martos met to discuss the contentious issue.
The councillor expressed her  full readiness to solve the problem of 'illegal housing'  The Junta this week has pointed to a future modification of the decree or a change in its interpretation, allowing the homes to be made legal.
On the demolition of houses, Jesus Serrano said: "At no time will the Junta be demolishing more houses."
In the province of Almeria there are an estimated 13,000 'irregular' homes, of which approximately 12,000 could be regularised. That leaves about 900 built on protected land or with a court order against them, but that does not necessarily mean they will have to be demolished. The Junta also announced this week that two more houses under threat in Cantoria are not on the agenda at the moment to be demolished.
"We have proposed an amendment to Article 185 of the Law on Urban Planning of Andalucia ( LOUA ), but we are also looking at other alternatives such as the modification of the decree. We are focused on solving the issue of subdivisions, the difficult regularisation of two or more dwellings on the same plot.
"This has been one of the main obstacles to a solution to the planning problem since the decree came into force to regularise houses in early 2012."
A summit scheduled for last Monday from AEPA has been postponed to another date as yet unspecified.
Speaking on Saturday at a demonstration in Almanzora (see front page), Vice president of the AUAN Brian Reade said he was pleased that the Junta is looking at the decree but was disappointed that the meeting had been cancelled. "We are going to campaign for a meeting. People want to express their feelings. We understand the problems, we can contribute and we should not be ignored."
Speaking about the demonstration he said: "It is an important issue. We would have liked to see more support but we are pleased with the numbers that have turned up."