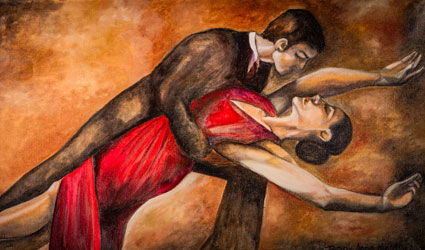 ARTIST Jenny Anne Morrison is holding her first solo exhibition in Spain. Art lovers travelled from all over the Costa Blanca for the recent launch at her Tormos home, "La Casa del los Sueños," which provided an ideal setting for her paintings.
The artist was inspired by gift of a camera, Jenny explained and since then she has travelled the world, seizing every opportunity of putting down on canvas everything that captures her eye and imagination.
Landscapes, seascapes, sunsets, skies, people, places, dancers, animals as well as feelings and faces are amongst her many subjects. Jenny commutes between Spain, London and Canada and now has a global list of clients.
Last year she held her first London exhibition which was a great success, the artist told us, as clients snapped up pictures from her colourful collection. 
"My main objective as an artist is to inspire hope, to lift the spirit, to elevate the soul, to give people inner peace and happiness.   And I am delighted to be living in beautiful Spain where the light is perfect," she said.