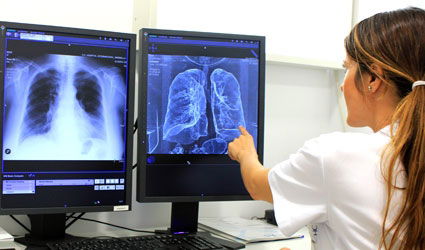 THE HC Marbella International Hospital is carrying out a campaign for the prevention of Lung Cancer, whose World Day was held on November 17.
Its Pulmonology Unit will be offering a free service until the end of this week.
With the aim of raising awareness about the importance of prevention in this disease, the hospital is making available for those who request it a consultation with a specialist, which includes a chest X-ray and the possibility of other tests being carried out if medically indicated. 
The initiative aims to make people more aware of this illness, which is the principal cause of death from cancer, and it is aimed at groups which have previously been established as being at risk, mainly smokers and former smokers over the age of 40, because "tobacco is the principal avoidable factor that causes more than 80 per cent of lung cancers" stresses the pulmonologist at the hospital, Dr Ana Maria Rodriguez Serrano.
The preventive check is also advised for those people who suffer from any type of chronic obstructive pulmonary disease (habitual cough and phlegm, among other symptoms) or those who have any first-degree relative who has suffered from this type of cancer, as well as patients with no symptoms.
Dr Rodriguez Serrano explained that "a simple chest X-ray would be able to tell us in approximately 65 per cent of cases if any lung abnormality exists, as it is the first test to be performed for the diagnosis of lung cancer". 
"These tests allow us to detect the majority of lung cancers at an early and curable stage," said the specialist. The hospital is also equipped to carry out other diagnostic tests, such as CAT (Computerised Axial Tomography) and PET/CAT (Positron Emission Tomography-Computerised Axial Tomography) scans among others, in cases where this is necessary.  
The Oncology Unit of the HC Marbella International Hospital works in a multidisciplinary manner with the other medical specialists, under the direction of Dr Hernan Cortas-Funes, with the aim of individualising the case of each patient and offering them the best possible solution. More information: 952908628 or [email protected].