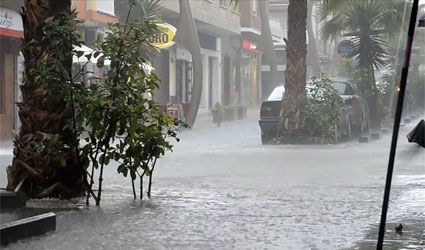 AT least 160,000 Alicante residents live in areas at risk from floods during torrential rain. The province covers an area of 581,515 hectares of which 46,645 hectares – 7.3 per cent of the total – are prone to flooding, the regional government revealed.
Playa de San Juan, Campello, Denia, Calpe and Ondara are the worst-affected north of Alicante city. To the south, the lower reaches of the River Vinalopo in Elche, the Vega Baja and Orihuela Coast are also threatened.
In 2003 plans were afoot to invest €800 million in protecting these areas from floods, but little has been heard or done since then.  
Despite a 2008 law obliging town halls not to classify high-risk areas as building land, construction is still allowed in sensitive areas. Town halls are still reluctant to carry out the recommendations of the Patricova flood-prevention programme, the Consell complained. 
This was particularly noticeable in areas adjoining the Girona and Gorgos rivers as well as streams in Denia and Calpe, it pointed out.