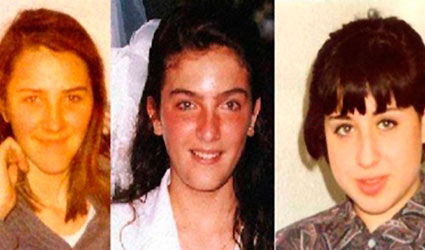 A MAN sentenced to 186 years in prison for the murder of three girls, could be released any day.
On January 27, 1993, the gruesome discovery of their dead bodies shook the whole of Spain. Their names were Miriam, Antonia and Desiree; known in the media as 'Las niñas de Alcasser'.
The Valencia High Court of Justice will decide if Miguel Ricart will be freed from Herrera de La Mancha Prison in Ciudad Real after studying his situation. 
He was going to be released in 2011, but thanks to the Parot Doctrine, this was postponed until 2023. 
However, the Court of Human Rights in Strasbourg recently decided to partially annul the Parot Doctrine which established that time reduced from a prison sentence for good conduct should be subtracted from the total sentence, not from the 30-year limit stated by Spanish law.
The girls, aged between 14 and 15, disappeared on November 13, 1992, near a disco in Picassent. 
On the day they disappeared, they hitched a lift with a local man who left them at a petrol station where they were seen getting into a white car. At the disco they had some drinks with a male friend. What happened later remains a mystery.
After days searching a 20km radius, in January, the rains and winds unearthed a hand and a watch. It was obvious that the girls had been raped, beaten, tortured and murdered.
Near the bodies, police found a document with the name Enrique Angles Martins, a paranoid schizophrenic, leading them to his home where they arrested all his family and another man, Miguel Ricart.
The main suspect, Antonio Angles, had escaped while on leave from prison in March 1993. Although some believe Antonio Angles and Miguel Ricart are just common criminals, others suspect dark motives such as snuff movies and say that politicians may be involved. 
Ricart always claimed Angles, who is still missing, was responsible for the deaths.