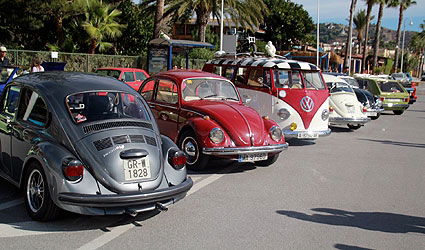 THE STREETS of La Herradura were packed with car enthusiasts during the 6th Volkswagen Classics Beach Meeting.
Forty two Volkswagen models were on display at Peña Parda beach during this event organised by the Club VW Granada in cooperation with Almuñecar Town Council.
The vehicles, which came from all the Andalusian provinces as well as Murcia, Alicante and Melilla, were manufactured between 1958 and 2000.
They took part in a parade from Peña Parda beach to the marina, and along the streets of La Herradura. The event finished with an awards ceremony for the oldest and best preserved cars.