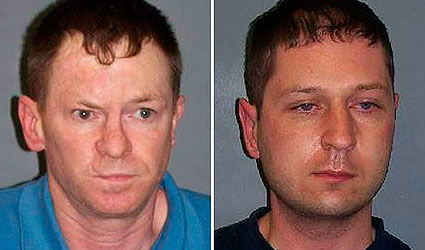 TWO Scottish paedophiles serving prison sentences for murder and sexual assault are being questioned in connection with the disappearance of Yeremi Vargas.
Charles O'Neill, 50, and William Lauchlan, 36, were living and working in Gran Canaria when seven-year-old Yeremi vanished from his home on March 10, 2007. They were reportedly in Los Llanos neighbourhood of Vecindario around the time he disappeared.
Guardia Civil said: "It's not a tourist area you'd expect foreigners like them to be visiting."
The pair refused to speak to Guardia Civil last month and they are now being treated as suspects, as well as Ewan Wilson, who took the pair into his home after an earlier sentence. Wilson visited them in the resort of Maspalomas in the same month that Yeremi vanished.
O'Neill and Lauchlan  were jailed for life in 2010 for murdering Allison McGarrigle, 39, in 1997, to stop her from reporting the abuse of a young boy.
In the 13 years between the murder and their convictions they served jail time for sexual offences against children.
Yeremi's mother Ithaisa Suarez told a British newspaper four years ago she suspected that the pair was behind her son's abduction. 
Guardia Civil have released pictures of the suspects and are hoping for information from people who hired the services of Rainbow Cleaning Service S.L., run by the pair at the time, who may be able to reveal details.