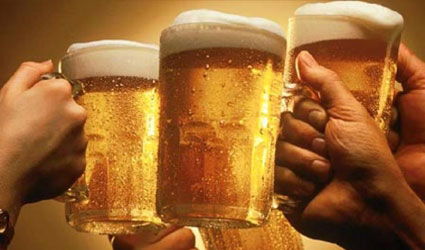 BEER lovers will be raising a glass to two doctors who have given the tipple a clean bill of health – when drunk in moderation.
Almeria was the Andalucian city chosen to present the conclusions of the fourth International Beer Conference. Among other things, it was established that those who are on a diet do not necessarily have to stop drinking beer as long as it is drunk in moderation.
 This applies more to the obese who have to adhere to a diet for a long period of time when a diet becomes boring, explained specialists Doctors Manuel Gargallo and Manuel Castillo speaking at the College of Physicians of Almeria.
What is more fattening is the accompaniment to the beer, the tapa, the snack or meal. In fact, no scientific studies, according to the medics, substantiate the expression of the term 'beer belly'.
Also according to the findings of this study, if you play sports and sweat and need to replace water after exercising, people can recover after one or two beers. Just do it without the tapa.