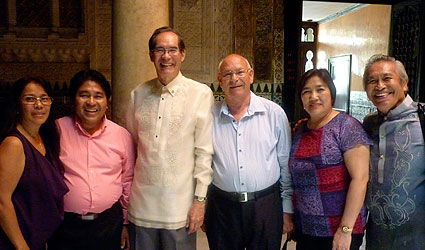 BIG hearted expats are trying to help survivors of the typhoon disaster that struck the Philippines. Many members of the European Philippines International Senior Citizens Club have friends and relatives in the affected islands, and are making an appeal for food and donations to help those suffering.
Within days of the disaster they got together to set up an aid appeal to send food and clothing supplies to the worst affected areas of the Philippines.
The group is asking people to donate canned goods, rice, noodles, used clothing, towels, blankets, pots and pans, first aid medicines or make cash donations to help those whose lives have been turned upside down by the natural disaster.
The club has contacted two shipping companies LBC and Manzen who have agreed to transport donations from the pick-up point in Sotogrande directly to the Philippines Red Cross in Manila.
Zenaida Herrera, a spokesperson for the European Philippines International Senior Citizens Club said: "We the Filipino people are in deep mourning for the lost lives and are making our appeal to people over the world to join hands with us in extending help in any way we can to the victims of this devastation."
The club itself has already raised €500 cash and €700 worth of food supplies.
Donations can be taken to house No 35, on calle Maria Molina in Sotogrande, just off the Paseo de Parque.  For more information or to make a donation please call 603259147 or 666853038.