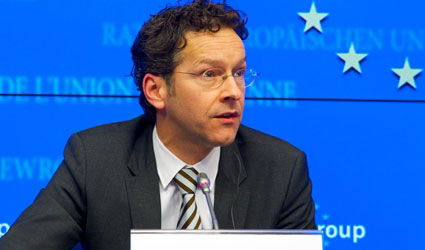 FINANCE ministers from Eurozone countries have given their vote of confidence to Spain after it elected to make a 'clean break' from a bank bailout programme.
Jeroen Dijsselbloem,President of the EU's Eurogroup, welcomed Spain's decision to exit the aid programme in January 2014. Spain will be joining Ireland in making a clean break. Spain dipped into the bailout fund to the tune of €41bn in 2012 to recapitalise banks after the property market crashed..
Speaking after a meeting of the group of finance ministers Mr Dijsselbloem said : "Both countries have always shown strong commitment towards the implementation of their programmes.
"This has shown results, as the recent developments on the financial markets have shown. The Irish and Spanish people have gone through a difficult period but I am now confident that their efforts will pay off in the coming years. Now these economies are back on the road to recovery.
 "We fully support Spain's decision to cleanly exit the programme. Thanks to the programme, the Spanish banks are now stronger and more resilient and supervision and regulation have been tightened. And this is confirmed by the positive market sentiment and the encouraging recent economic data from Spain. The structural reform agenda has advanced in parallel, allowing a return to growth.
"The Spanish authorities are determined to keep the reform momentum as I noticed when I visited Madrid."